Credenza
Furniture Design and Visualization, 2019


Solid oak wood credenza with finger joint frame and natural leather strap handles. Dimensions 50x18x18" (WxHxD), base is 9" tall.

Modeled in SketchUp, rendered with Corona.
Deck for 26 Curtis Street
Design and construction, 2017


Designing a new deck off the back of our house was a unique opportunity to create a spacious extension of the dining room.
We wanted a flexible and informal space with plenty of seating and counter space for outdoor cooking. In addition, the deck includes a garbage den, a tool shed, hose reel, outlets and natural gas hookup.

Project size:
Budget:
375 sqft
$15,000



Visualization and Mobile VR

This project explores mobile VR in an architectural context.
With $15 Google Cardboard goggles, mobile VR is available right from your smartphone. This technology has incredible potential and the gentle learning curve makes it easy to integrate into the design process and distribute for presentation purposes.

To view this on Google Cardboard:

1. Download the IrisVR Scope app to your phone
2. Launch the app and click the + symbol
3. Enter the code: JNVGN7 and follow the instructions




Teaching

A video tutorial is a quick and easy way to introduce new software and techniques. I started making video tutorials late 2012 to support lectures and workshops. The channel has 50+ tutorials, 3,600 subscribers, and more than 1.1M views.

Techniques covered:

Modeling and drafting (Rhino 3D)
Parametric Design and visual scripting (Grasshopper)
Digital Fabrication (nesting, laser cutting, etc.)
3D laserscanning
Topology optimization
Rendering

Visit my YouTube channel at http://youtube.com/rubenborup



Workshop for Studio MAD

This site registration consists of 45 laser scans and has a total of 701M points. The point cloud was used by the students as a guide for designing site-specific art installations with the purpose of activating the space.

After being introduced to the gear, the students were able to perform the majority of the laser scanning themselves using the Faro Focus 3D laser scanner. The scans were loaded and aligned in Faro Scene and finally filtered and rendered using Bentley Pointools.

Portions of the 16 GB point cloud were loaded into Rhino and used for precisely measuring and modeling site specific features.

For more information about laser scanning see my laser scanning playlist on YouTube.



Visualization, 2014

Revisiting my Master's thesis project from 2008; a multi-functional skyscraper. The project is located on Wilhelmina Pier in Rotterdam, Netherlands surrounded by designs from Fosters, Renzo Piano, and OMA. http://www.wilhelminapier.nl/en/architecture/

Based on the original concept, I cleaned up the geometry and applied new rendering techniques and weather conditions.



Workshop using robotic fabrication

This four-week workshop used robotic hotwire cutting for creating polystyrene molds for concrete casting. Measuring 3x21 meters, the concrete elements are too heavy for the students to handle, so casting and assembly will be dealt with at an external facility.

A topology optimized design is remodeled using t-spline NURBS. This model was broken into ruled surfaces needed for hotwire cutting using a combination of custom Grasshopper scripts and manual modeling in Rhino. Once the individual molds were created, the geometry was converted to code using HAL for Grasshopper.
The molds were cut piece by piece using a hotwire and an industrial scale ABB IRB 6620 robot.
A 1:20 scale model of the structure was 3D printed for reference. During the workshop, samples parts were cast at full scale during to check mold precision and concrete finish.

Video tutorials form the workshop are available here.



Workshop using topology optimization and laser cutting

This is the result of a three-week workshop for 36 second-year students at Aarhus School of Architecture.

The students were given a set of design criteria (span, height, supports). Next, the students would create a three-dimensional design space for topology optimization. By adjusting supports and loads, several iterations were made until we reached desirable results. After reviews, the designs were revised and modeled in Rhino using T-Splines, then sliced, numbered and laser cut in 4mm plywood. All models were assembled by hand.

Techniques covered:

Topology optimization (solidThinking Inspire)
Organic modeling (T-Splines)
Digital fabrication (RhinoNest and laser cutting)

More info: Watch the video or read the publication



Workshop on parametric design and masonry

This four-week workshop introduced first-year students to masonry. By mixing traditional craft with visual scripting in Grasshopper, the students were able to explore and control parametric, rule-based systems containing hundreds of bricks in real-time.
After a series of design iterations, the students developed fabrication strategies and built their designs at full scale on site. To improve precision and help construction, individualized tools were made to control rotation and spacing of the bricks.

Techniques covered:

Modeling in Rhino
Parametric design and visual scripting (Grasshopper)
Fabrication strategy (Quantization and color coding)
Fabrication tools

More info: Read the publication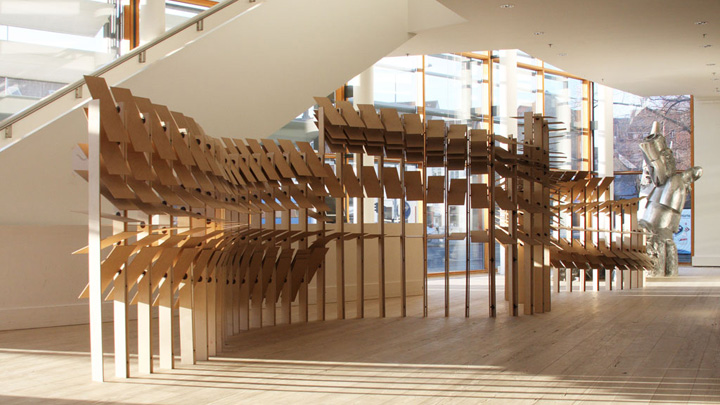 Workshop on parametric design and laser cutting
The focus of this workshop was to investigate light and spatial conditions in relation to a specific site through the use of parametric design. In addition, the parametric system facilitated material use; materials cost, and live fabrication drawings.
By combining mass fabrication with digital fabrication, it was possible to achieve highly individualized designs and build a full-scale design in only three days (+ design phase).
The final structure consists of 3,648 parts of which 1,026 are digitally fabricated using laser cutting.
As part of the workshop, a group of students would document the process. For more information, watch the video or read the publication




Product design and visualization, November 2011

The objective was to design a full server rack with two custom rack units for the Irigo Engine.
The S1 storage unit contains 36 hard drives in a 4U form factor, so cooling is of extreme importance. Maximum airflow is ensured by a perforated front bezel and maintained by two bays of fans.
C1, the processing unit, holds 16 mini ITX motherboards with one i7 CPU each boasts a total of 128 processing cores. The same layout was used for both designs to ensure maximum airflow.

More info: Read the brochure

Project update: The design has undergone some changes, but the general concept is unchanged. More info about Cabo's Irigo Engine here



Animation, December 2010

This Season's Greeting video was made as a fun spin-off from an elaborate demonstration video demonstrating the Vestas Tower Crane. The story was pitched, storyboarded, and approved in just two days and finalized in 10 days - just in time for the Holidays.

I was in charge of rigging, character animation, and rendering while my coworker Rune would do effects, editing and post production.

Modeling:

3dsmax

Rendering

:

V-Ray

Post production:

After Effects

Editing:

Premiere Pro



Product launch presentation animation, 2009

This video was made for the European Wind Energy Conference (EWEC) in Marseilles, 2009. For the release of their biggest wind turbine, Vestas asked Cadpeople to come up with a story that would highlight key features of their new flagship wind turbine.

I organized storyboarding and worked on scenography design as well as modeling and animation.

The project was created in three weeks.

Modeling:

3dsmax

Rendering

:

V-Ray

Post production:

After Effects

Editing:

Premiere Pro
Master's Thesis Project, June 2008
My thesis project is located on Wilhelminapier in Rotterdam where the Holland America Line was hosted for more than 100 years. Today Wilhelminapier is transforming into a mini-Manhattan. My project is named New Orleans after the warehouse originally located on the site.
The project is a mixed-use building with an indoor public space at 23rd-27th floor connecting the two towers. From the "Bridge" you have a virtually unobstructed view of Rotterdam.
The project was modeled in SketchUp and 3dsmax, then rendered using Mental Ray and edited in Premiere Pro.
For information about the design process, watch this slideshow